Here are all of the great theatre and live shows in Bali. These range from culturally insightful traditional dance performances staged against ancient and majestic temple backdrops, to modern theatrical shows that are intricately choreographed, including dramatic lighting effects and soundtracks. Themes range from local folktales to ancient Hindu epics, while contemporary shows blend storytelling with lively dance troupes in elaborately designed costumes, and even aerial acrobatics.
Like any form of storytelling, the best theatre in Bali can transport you to other worlds, take you on fantastic journeys, or simply showcase the many different facets of exotic culture and traditions through dance and drama. Live shows in Bali are held regularly and are often a great highlight of your trip, with many located in exotic places. There's no better way to introduce yourself to Bali's rich cultural heritage. Tickets for each show are available at their respective theatre counters, while some others can be booked on our site.
Interested in this tour? Book it here.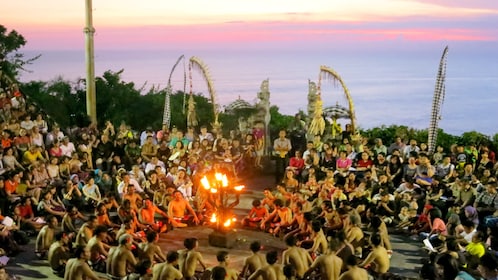 per adult
Free cancellation
Book
The dedicated amphitheatre at Tanah Lot Temple comes to life at sunset and is a popular attraction for visitors to enjoy after admiring the sea temple. The show features Bali's famous Kecak 'fire dance' performance, which depicts a major episode in the Ramayana epic, with dancers performing to the background music provided by a circle of male singing-dancers chanting acapella.
The Surya Mandala Cultural Park is located to the west of the Batu Bolong Temple, Tanah Lot's sister temple that is no less breathtakingly set on a unique rock formation. Read More...
Opening Hours: Daily from 10am to 10pm
Location: Tanah Lot, Beraban, Kediri, Tabanan, Bali 82121, Indonesia
Tel: +62 (0)361 8311755
Garuda Wisnu Kencana Cultural Park (GWK) offers a day out in a massive open park venue that's home to one of the largest statues in the world. Besides that, GWK also offers live cultural performances in its open amphitheatre in the late afternoons. These highlight regular Barong (a dance drama depicting the eternal battle of good versus evil) and Kecak (depicting a scene from the Ramayana epic, accompanied by the chanting choruses of male dancers).
Other cultural performances include bamboo orchestras, Joged (a social dance) and the mesmerising Legong royal court dance performed by petite dancers in vivid costumes. Read More...
Opening Hours: Daily from 8am to 9pm
Location: Jalan Raya Uluwatu, Ungasan, Badung, Bali 80364, Indonesia
Tel: +62 (0)361 700808
3
Jambe Budaya Barong Dance
The Jambe Budaya Theatre in Batubulan offers a different kind of Barong dance performance, with its shows presented in play-like format. Many of the performers are local residents of the Batubulan village, and unlike common Barong performances in the area, the antics of the comic reliefs (such as those acting out the roles of monkeys and other animals from the Ramayana's monkey forest episode) can be quite hilarious.
Compared to other similar local amphiteatres, the setup of Jambe Budaya's stage is also modern, laid out with carpets and supported by advanced lighting and sound systems.
Opening Hours: Daily from 9am to 10.30am
Location: Batubulan, Sukawati, Gianyar, Bali 80582, Indonesia
Tel: +62 (0)818 0559 0490
4
Putra Barong & Kris Dance
The Putra Barong & Kris Dance is a local stage in Batubulan that shows the popular Balinese Barong and Kris dagger dance drama. It is often an included stop on popular tour itineraries to Ubud and its outlying areas, particularly to the goldsmiths and silversmiths communities of Celuk and Mas in the Gianyar regency. The shows are held daily and in the mornings only, with dancers and the gamelan troupes made up mostly of local villagers.
The show is often presented in 5 episodes, each depicting a scene from the Calonarang epic that tells the battle between the Rangda and Barong, otherwise known as a classic tale of good versus evil.
Opening Hours: Daily from 8.30am to 10.30am
Location: Jalan Raya Celuk, Batubulan, Sukawati, Gianyar, Bali 80582, Indonesia
Tel: +62 (0)851 0052 9969
Showing Barong and Kecak dance performances daily in the Balinese artists' village of Batubulan, the Sahadewa dance theatre has 2 stages, which let you enjoy shows in any weather.
Established in 1972, the Sahadewa stage is also one of Bali's pioneering local stages, and it has been presenting shows daily ever since. The Barong dances here are shown mainly at its open stage, while the indoor stage hosts cultural dinners as well as varieties of other traditional Balinese dances such as Legong, Jegog and others.
Opening Hours: Daily from 9.30am to 10.30 and from 6.30pm to 7.30pm
Location: Jalan SMKI, Batubulan, Sukawati, Gianyar, Bali 80582, Indonesia
Tel: +62 (0)631 4711015
6
Sari Wisata Budaya Barong & Kris Dance
The Sari Wisata Budaya stage in the village of Suwung Kauh (roughly between Kuta and Sanur) features a semi-open stage where the Barong and Kris dagger dancers are performed daily. Pamphlets are handed out before the show, which explains the episodes of the performances inspired by the legendary Calonarang tale of the struggle between the powers of good and evil, represented by the 2 main characters known as the Barong and Rangda.
A lively gamelan orchestra accompanies the dances, and photo sessions with the performers clad in their dazzling traditional costumes onstage usually follow after the show. Shows are in the mornings daily for approximately an hour.
Opening Hours: Daily from 8am to 10.15am
Location: Jalan Griya Anyar No.25B, Pemogan, Denpasar, Bali 80221, Indonesia
Tel: +62 (0)818 562 400
Rate This Place:
( votes)